Welcome to the UCT Membership Development Awards Program!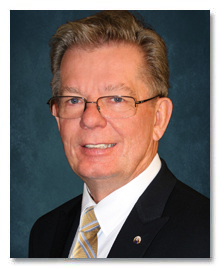 "Change is the law of life. And those who look only to the past or present are certain to miss the future." – John F. Kennedy.
Change is all around us – for better and for worse. We're constantly dealing with and adapting to new challenges and outcomes. It's a natural part of life and business, and it is something UCT has been doing for 130 years.
Take a moment to appreciate that. You're part of an organization that has been around for 130 years. That's pretty remarkable! Now ask yourself – what can you do to make sure that UCT is around for another 25, 50 even 130 years?
My answer, as incoming UCT President for 2018-2019, is by facing change head on and with an open mind. New ideas and concepts are going to be presented, and we can't just shoot them down because they feel foreign or untraditional. We have to be willing to accept positive change, while staying true to our values, our vision and our mission, to ensure that our organization continues to grow and flourish.
With change we require a clear sense of direction and must ask ourselves the following questions. What change is needed? What changes are being made and why? What shouldn't be altered? What is the best way to make the vision a reality? What change strategies are unacceptable or dangerous?
And the key to any successful change is communicating at all levels of our organization. So, I encourage all of you to attend this year's UCT convention, July 2-5 in Savannah, Georgia, where you can be a part of the discussion about UCT's future and what it looks like for everyone. If that's not possible, make it a goal to get more involved with your local council or at the regional level.
Make sure you stay informed by visiting the UCT website at www.uct.org, by checking in on the Facebook page at www.facebook.com/UCTinAction, by subscribing to the UCT blog, and most importantly, opening and reading all of the mail and emails sent to you from the home office.
We have a big year ahead of us and I wouldn't want anyone else by my side during this journey. I look forward to working with all of you throughout the year.
Chris Phelan